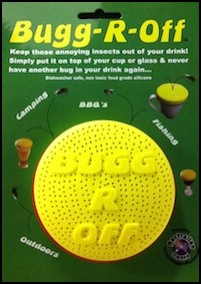 EVER HAD A FLY OR BUG IN YOUR DRINK?
WANT TO STOP IT EVER HAPPENING AGAIN?
YOU NEED BUGG-R-OFF! Problem solved!
Bugg-R-Off is the perfect way to keep bugs out of your drink, a novelty insect deterrent drink cover to keep flies & insects out - The classic Australian souvenir for outdoors dishwasher safe, non toxic food grade silicone- Camping, Fishing, Boating, BBQ's or just sitting on the deck. Great for anything where you want to keep annoying insects from getting into your drink.
BUY NOW FOR GREAT AUSSIE SUMMER SPECIAL GIFT - $8.50 postage Australia Wide!

Imagine having a bee or wasp get into your drink without you seeing it!! Swallow that and have an allergic reaction!! Avoid this with your kids, just use Bugg-R-Off!Help keep your drink safe - It's also a great deterrent for drink spiking, just cover up your drink to stop anything being dropped into it.
Suitable for:
Wine Glasses - Coffee Cups - Camping Mugs - Plastic Cups, Cans & even Bottles A great Novelty Australian Souvenir
… Be the first to get yours today - Buy Now at the special introductory price. plus $8.50 postage Australia wide!
Great Aussie souvenir novelty gift for the Easter camping trip or birthdays, Christmas or any time you want to tell someone to BUGG-R-OFF!
Got friends from overseas - Give one to them before they BUGG-R-OFF!
Imagine your mates face when he opens his gift & it says BUGG-R-OFF - Priceless!

Simply slip it on and cover your beverage while you are not drinking - Take it off to have a drink & put it on to keep the insects OUT! No fiddling, just drop it on - The silicone is non slip so it won't fall off even when you are falling over! (well maybe it will if you are falling over, but by that time you won't realise or care what is in your drink anyway ha ha)
Safe, clean, easy, fun and effective drink cover to keep flies and insects OUT of your drink. Keep a Bugg-R-Off in the esky, in the kitchen, with the BBQ on the deck, in the boat, with the camping gear - Anywhere! If you have ever found a fly swimming in your drink you know this is The MUST HAVE item!
You know the saying "Remember the Aeroguard & have a good weekend"
Well we reckon BUGG-R-OFF & have a
GREAT WEEKEND
!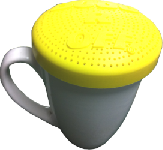 Orders are sent with Australia Post every week day $8.50 postage Australia wide.
Want to order bulk or are you outside Australia? Just
click here to contact us
to arrange your order.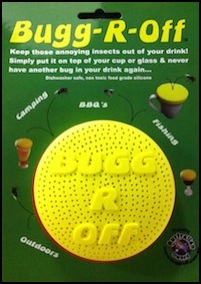 Proudly an Aussie owned and operated family business.


Contact:
Frank Manuel
Ph: 0433 479 146

Bugg-R-Off
PO Box 98
Bli Bli Queensland 4560
Australia